Money doesn't grow on trees
I'm not made of money
It's too expensive
We can't afford it
Money is the root of all evil
Just enough to make ends meet
These are the messages about money that I remember from my childhood. Not very helpful for learning how to manage money! We also got pocket money but didn't have to do anything to earn it- another poor money lesson. There's no such thing as money for nothing!! I did learn some good habits too, to be fair, like saving– remember Henry Hippo from the Ulster bank? And always living within my means. I love stationery and once on holidays in Dublin, I came across this pink, perfumed diary with a lock that I just had to have! I'd spent all my money already though and went pleading to my father. I'll always remember him saying 'You have to learn to live within your means'. I probably remember it because he still bought me the diary! But the lesson stuck.
I want to do things differently for my little girl. Last year I came across the wonderful Ann Wilson a.k.a. The Wealth Chef. Her book of the same name is really effective for changing your money habits. What about your children though? She recently did a video about this on Facebook (you can watch the whole thing here ). I started putting her suggestions into practice and it's been really interesting! So first of all, I decided on an amount of 'pocket money' per week. I had no clue really so I just went with what I felt was a reasonable amount for a 6 year old so it's €5 a week. Then myself and my little girl did a list of jobs that she would do in order to earn the money and we taped it to the door of the living room. What kind of jobs? This really depends on your situation. So for us at the moment, it's things like having her school bag all packed and ready each morning, tidying up all her toys each evening, putting clothes in the washing machine, making cards for me to send to people, and so on. The basic idea is that money is an exchange of value so the value in making the cards is that I don't have to go and buy them and people like them. It can be kind of hard to come up with jobs that are worth paying for as opposed to things she needs to do without expecting money. Like homework for instance. But we had great chats about what jobs to put on the list. And it's interesting to see what motivates her and what doesn't. She did try to get me to pay her for hugs!
Then Ann Wilson suggests the following spending plan. I like her idea of spending plan rather than budget. It feels more abundant to me. So, starting at age 3 and up to age 5, she suggests 3 pots: Spend, Save, and Share. You give your child the money they've earned in the following proportions: 50% Spend, 40% Save, and 10% Share. So Spend is easy. This is money to spend when you get it. Save is the money they save in order to buy something like a doll or a tutu or whatever takes their fancy!  And Share is money that they use to give to charity or maybe buy a present for someone they love. The idea of the Save pot is to teach them how to set a goal, take the steps needed to reach the goal, and to wait. Depending on what they want to save for, you can offer to go 50/50 with them so they don't have to wait for months!
They learn so much by doing this. They'll learn the different coins, the amounts they stand for, cent vs euros/dollars, numbers, and the concept of quantity and value. Goal setting. Patience. What they're prepared to do to achieve their goal.
For 6 – 9 year olds, you add an extra pot Grow. This pot is like investing and you agree to pay them interest for the money they put in here. I give my little girl 10% interest at the end of the year. The money for this age range is divided up as follows:  50% Spend, 20% Save, 20% Grow, and 10% Share. For children in this age range they can set short term or long term savings goals- it's up to them to decide. You use actual pots- here are ours: nothing fancy, you just want to get started. It's good too if you can have the pot match in size the % of the whole amount that goes into it as a visual reminder. But don't stress about that- getting it up and running is the most important thing.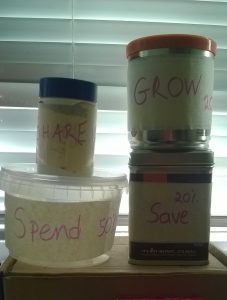 So at the moment, my little girl is choosing to combine her Spend and Save so she can buy Barbie Fashionista dolls. The first thing she wanted to buy was a Barbie Pet Mobile that was going to take about 8 weeks to wait for even with a cash injection from me and her granny! We marked out the Saturdays (pay day!) on the calendar and she had no problem waiting. She has started to get more impatient since though! But we still have great conversations about what she wants to aim for, how much it costs, how long it will take, is she prepared to wait that long, is it worth it? We've also had great chats about the marketing strategy of scarcity and how your brain can trick you into impulse buying if you think things are running out. And how shops are trying to get you to part with your money. And the difference between wants and needs.
When they go to spend the money too, encourage them to do the transaction, get the receipt, and make sure the change is correct. All highly useful skills to learn for life.
For older children then, (age 10-12 -although you could do a version of this with 6-9 year olds), Ann Wilson suggests that 4 times per year, you sit down and talk about what they need in terms of clothes and shoes for the following 3-4 months. You set the amount and you plan the spend together. You give them the money and if they come in under budget, they get to keep what's left over.
Finally, for the 10-12 year olds, you add another pot for Joy or Playing or whatever they want to call it. This is money you spend on things or experiences that really bring you joy. Does this bring me joy? is a question from Marie Kondo's book about decluttering and is really useful for life in general. The pots for 10-12 year olds are as follows:  10% Joy, 50% Spend, 20% Growth and 10% Share.
When you talk about money in this way, it takes the emotion out of it and makes it more neutral. You'll be amazed at how your child gets the hang of the system and it's so interesting to watch them take it all in and make their own decisions. She also suggests that you divide up any money they get as presents into the pots too. I haven't done this yet- I save any money she gets as a present but I'm working my way towards being able to let go!!
This website A Mighty Girl has useful resources for teaching children about money. You can find it here.
One last thing- you're going to the shop and your child asks you to buy them something. You say No and they say Why? Answer with That's not how I want to spend my money today.  So they're hearing a model of conscious directing of your money rather than messages of lack.
If you like this post, please pass it on to your friends!
Let's get talking!
MP