So here's the report on our Love Bomb Experiment! If you haven't read the post about what it's all about, you can read that here: http://talknua.com/love-bombs/
About a month beforehand, I mentioned the idea to Iveragh (ee-ver-ah) and she immediately jumped at the idea, in particular the telling mummy what to do all day part! It was easy enough to set some limits like it would be from when she woke up until 6 p.m. And no problem either limiting it to in and around where we live. She decided to call it Mummy & Iveragh Candy Pink Time and she chose the date, May 15th so we put it in the phone calendar and she was very excited when she saw it appear the day before.
So what did she want to do? Very simple things really. Go to Monkey Business (a soft play place up the road). Get a cake from a particular bakery. (This took a bit of negotiation as it wasn't open on a Sunday so she had to come up with a Plan B) Get the bus to town and buy some clothes in Penney's for herself and for me.  I wasn't allowed to have a shower, do my morning exercise, or drink my hot water and lemon alone as I would usually do at the weekend…. and she would decide what we would both eat for breakfast. (Gingerbread men and cashew and date bars….) She wanted to tell me what to wear. (I was most afraid of this I have to admit, especially as we would be going out in public!!) Did I cheat a bit here? Hmm. You can decide! My mother in law suggested I hide anything I didn't want to wear & tell her it was in the wash but that wasn't really in the spirit of it all so I decided to do a bit of negotiating instead and appeal to her sense of fairness. So it was too hot for the pink jumper and she wouldn't want me to uncomfortable would she?! So she gave me a range of options and approved the final choice including a couple of outfit changes during the day! Phew!
Well, the day dawned and she woke up at 7.22 a.m. (unusual for her!) and was up immediately in a hurry to get to Monkey Business. It doesn't open until 10 a.m. So we hit out first hitch! We discussed the options and she decided we'd walk to the park at 8.30 a.m. Half way there, she claimed her legs were too tired, and she wanted to go home. There was a fair amount of whining and I did think to myself 'Oh no, this could be a very long day…..'. But what was easy actually was I didn't have to do any convincing as she was making the choices. So I just said 'okay, we'll go home'- no persuasion necessary!
She chose to watch 10 Ben & Holly episodes which would take us to 10 a.m. and then we spent 2 hours in Monkey Business with jellies included. It was hard not to influence her around the food I have to admit!
After Monkey Business, we got the cake (yellow and pink icing- her favourite colours), smoothies and these bars that she likes in the supermarket and snuggled up at home to watch Frozen. She just licked the icing off the cake…oh how hard it was not to say anything about that ……….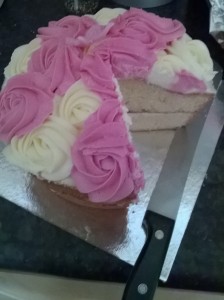 Then it was off to a café and this is where the planning is really important if you're to be true to the approach. I hadn't planned it well enough so my husband wanted the car by 4.30 and then I wasn't able to find parking near the café so there was a bit of scrabbling around for ideas for what to do as it was now too late to go to Penney's on the bus. So we settled on a trip to a playground where she had a great time playing with a little girl she met. Then she wanted ice-cream and before I knew it I had said no- automatic pilot! And I cringed when I heard her say 'But it's my day and I get to decide everything'….. again this is where the planning is important- I had no change to buy the ice-cream and the nearest bank machine was a long way away….so more negotiations ensued and we went to our local shop where she bought a magazine and she was delighted. But of course, my inner perfectionist would have preferred to do it 'right'……
Another part of the approach involves the child making, buying, or finding a token to remind them of the day so after lots of searching in Dunnes she picked a dog-shaped handbag with pink sequins and also decided to buy me a pair of pink knickers to remember the day – I'm not showing you the knickers though!!!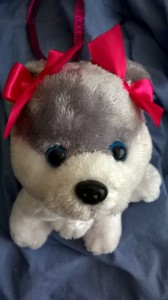 Another part of the approach is that during the Love Bombing time you give your child lots of hugs and kisses and tell them you love them so there was a lot of snuggling going on too- I really missed that the next day when she was at school!
And that was it! So would I do it again- totally! It was really lovely not to be bossy if you know what I mean? It felt very different from my usual parent role of making sure she was getting a healthy diet, saying no, and splitting my attention between her and housework and limiting time at the park or Monkey Business etc. So we agreed we'll do it once a season and the next one is called The Lovely day with a Dark Pink Love Heart. I'd plan better for the next one though and by that I mean writing out the plan for the day in advance with her so that we can really do everything that she wants to do. This time we had left somethings optional like going to Penney's on the bus but that didn't work out because it was a Sunday and the bus times are better on a Saturday. You get the picture. And I'd set a budget before hand and stick to it– otherwise it could become very expensive!!
So Love Bombing? Yes, totally worth it! Overall we had a great day and when I asked her if she'd enjoyed it, I got a very enthusiastic response- good enough for me!
If you try it, let me know how you get on in the comments below! If you have more than one child, the idea is that you spend the Love Bombing time with one child at a time and even a morning could be enough.
Let's get Love Bombing!
MP